To boldly explain termites as no one has managed before . . .
In Brief
This is a general guide to termites. It is aimed at helping people with pest issues, as an introduction for students and a resource for the just plain curious (like me and possibly, you).

What's here

You'll find a jumble of information built mostly from all my email answers to people around the world. You can learn lots about termites, what they are and what they do, about avoiding termite problems, how to get rid of termites if you have them and how not to get rid of termites.
Now
In my part of Southern Australia (yes, I probably live on a different continent to you) it is well into Spring and my termites are getting active again and we have had some flights. In the Northern Hemisphere activity is slowing. If you have any concerns, right now (shoulder season) is a good time to have your home professionally inspected. If you are super-confident, infallible (& rich enough to bet-the-whole-house) then, by all means, do your own inspecting.
Where's Wally Don?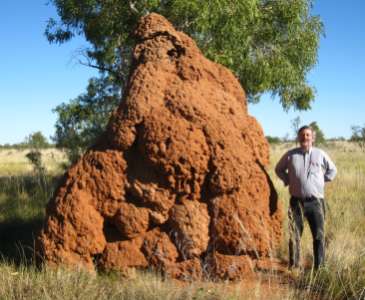 Don't been busy in several States and countries. Teaching at NMIT for the year ran as two clusters of compressed day classes with a good gap between. I think I'll ask to make them each 2 lots of 3 days for 2014. Pro bono work on on a Code of Practice for timber pest inspection is done and the long-awaited revision of the Australian Termite Standards is through Public Comment phase with just a few issues remaining before a revised AS 3660.1 and AS 3660.3 can be published. Then we will start on the management standard, AS 3660.2. Some talks in May/June forAgserv's Pestcech 2013 were fun with pest managers more interested in my optional talks minor and seasonal pests than they were with termites. For AEPMA there's work on a Code of Practice for termite management systems. Oh, and a book chapter that's just about late.

Some fun media too. Took calls on 702 Mornings with Linda Mottram and did a lengthy more personal piece for ABC FM on Midday with Margaret.
Basically, I do various tasks for various people which sees me moving around a lot (see right, a happy mound of grass-eaters somewhere in the SW of the NT). Despite that, emailed questions should get an answer within about 3 days.
As usual, the aim is to make these pages a lot better, but things get in the way. Next update will look quite different and should display properly on any screen size. And yes, there are pest termites in my yard. Three species. Two subterraneans and a dampwood (although the wet winter of 2012 was very hard on the Nasutitermes and it will be some time before they recover). As long as they are not in the house, I have no problem with my garden termites. Haven't found any drywoods yet but there are some known in the area. Anyway, the project now is to re-write the baiting advice. Should keep it up to date. Meanwhile, here is a link to the old, original Bait Box Page from the mid 1990s (the ideas in which have apparently just been independently 'rediscovered' and termed a "research breakthrough" in Wisconsin)
Why?
Working at CSIRO, about 17 years back, I was spending far too much time answering telephone queries from the public (instead of getting my work done). So I started a dawn-of-the-web homepage which at first, couldn't be read by many people, and wasn't a lot of use but now it can and hopefully you can find what you need.
When I started this site, Alta Vista (the original search tool) indexed only 35 pages with the word "termite" in the whole of the then known web. Now Google knows well over a hundred thousand times that many. Unfortunately, lots of them are barely disguised business sites claiming to offer good advice but not delivering. Be very wary out there. Be especially wary of bad advice coming through social networking as some companies misuse it to promote their dubious services.
For the first few years these pages were at Labyrinth and a lot of old links still point there. Please let me know if you find any of those old links. The move to drdons.net means I have a lot more control but it has cost a lot on the Page ranking.
When this all began, back at CSIRO, each month only about a thousand people would drop by. Now the site averages thousands of hits per day. I wish that 1.8 million people would also read my research papers!
Please feel free to drop me a note.